Always about innovation and experimentation, we at PedalsAndEffects are all about trying new things. In addition to our Vintage Pedal of the Week series, we wanted to try another feature where we dissect the pedals and effects being used in songs of today and yesterday! This new column where we dissect the effects being used in songs is appropriately called the PedalsAndEffects Song Dissection! A bit of a disclaimer, some bands/artists are very protective about their sonic secrets so some of these dissections are based solely on our own knowledge of the capabilities of effects pedals, a little internet research and of course the songs themselves. So without further ado, here is the first entry of PedalsAndEffects Song Dissection featuring the song Die Slow by LA noise rock group HEALTH.
HEALTH is a local Los Angeles band with a very unique and distinct sound.  The group manages to blend, pop sensibilities with rock and roll, and a whole lot of feedback.  They are an incredibly dynamic group with their songs ranging from the ambient and ethereal to the aggressive and distorted. The group managed to make white noise and feedback entirely musical, having created an instrument known to them and fans of the band as a "zoothorn." The zoothorn is essentially a microphone running through a large board of effects pedals.  The song we'll be looking at today is "Die Slow" off their second full length "Get Color."
From l-r: John Famiglietti, Jupiter Keyes, Benjamin Jared Miller, Jake Duzsik
Right from the get-go you immediately hear feedback; this feedback however is chopped up into a very consistent rhythm and tempo. It isn't until the drums, bass, and rest of the group come in do you realize that the feedback is the heartbeat of this very unique dance tune. So assuming the feedback being heard is a result of the zoothorn, what could possibly be chopping it up? The zoothorn is a microphone going into a pedal chain via a mixer with the last pedal outputting right back into the mixer. What could be capable of chopping up an input and consistently looping it? Well, the BOSS SL-20 Slicer of course! The BOSS SL-20 Slicer turns a non percussive/rhythm input into something rhythmic sometimes by force resulting in really weird and cool glitch sounds. The Slicer is a stereo pedal with a tap tempo, so you can have your signal bouncing around separate amps in various patterns. The Slicer also has a harmonic setting, so the pedal attempts to make the outputted percussive sounds musical and you can get some really cool arpeggiated delay trails to some straight up old school video game sounds.
Photo credit: Boss
Around the 20 second mark of the song you also hear some interesting pitch modulation. It's like a fluttering that ping pongs back and forth. The BOSS Pitch Shifter series is capable of manipulating the pitch of the feedback like that, maybe even the BOSS Harmonist too. Additionally the Red Panda Patricle pedal is also wholly capable of that sort of sonic manipulation too.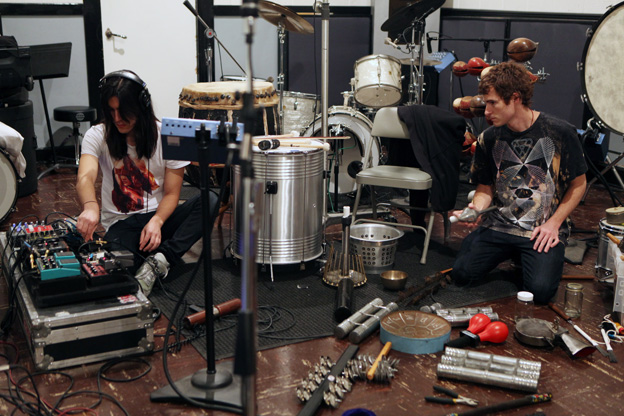 Photo credit: pitchfork.com
Really dissecting a bands or artists sound is a good way to attempt to figure out their songwriting mentality and apply it to your own. HEALTH is a very unique group, so there's definitely something worth paying attention to when it comes to their very unique songwriting style. HEALTH is currently on tour in support of their most recent release "Death Magic." You can find out more about HEALTH right at their website: www.youwillloveeachother.com/
Thanks for your patience in checking out PedalsAndEffects Song Dissection! We're testing out some new columns and features so bear with us as we test the waters! If there's a song you can't quite figure the effect out and want us to try dissecting what pedals are being used, feel free to email us at juan@pedalsandeffects.com Until next time!